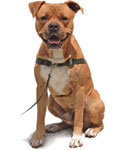 0 products
Without the correct dog leash or dog harness, walking your four-legged friend can be a real chore. Organize-It is here to help make those walks fun and comfortable for both pet and owner. We feature no-pull harnesses for dogs of all sizes that eliminate the choking, gagging and coughing dogs experience when a leash is attached directly to their collar. In addition, Organize-It has dog leashes in a variety of colors and lengths that are sturdy enough to withstand up to 2,700 pounds of pressure. Organize-It even has a cute, decorative

Dog Bone Leash Hook

, pictured left, to store your leash and harness when not in use.




Sorry, there are no products in this collection.